I went to London for the BETT show after a three year pause to see what they think that the future of learning and technology looks today. After the show I was walking near Buckingham Palace, when a Royal Air Force pigeon pooped on my head. No surprise though, for as you know, Brexit happens.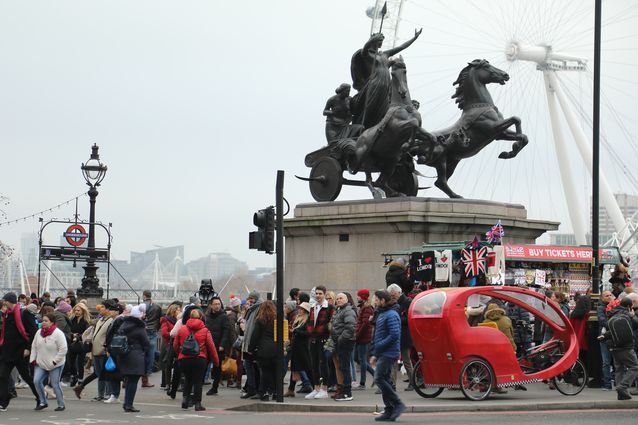 I went to the nearest public toilet to clean my hair. As I was going in, another guy tried to get out. The door jammed as we both pulled it, and to my surprise he exclaimed merrily "Wonderful! Lovely!" And I'm sure he was not referring to my messy hair, unless it was some kind of weird British humor. Such as small talk.

While I was raking the bird droppings from my head, I wondered about cultural differences. We Finns are known to be silent in at least three languages, and this guy needs to shout "wonderful, lovely!" when just bumping to a stranger in a toilet.

What do these cultural differences in small talk and talking aloud in general mean, when it comes to communicating with computers? To me the most interesting current topic at the BETT show this year was the computers' ability to interact with humans via spoken language.

Voice control has existed for several years, at least for some of the major global languages. Voice is used to control mobile phone genies such as Apple's Siri, Amazon's Alexa, Microsoft's Cortana and Google Assistant. My kids tease Siri by asking it, or she, "would you marry me?" and laugh at its responses.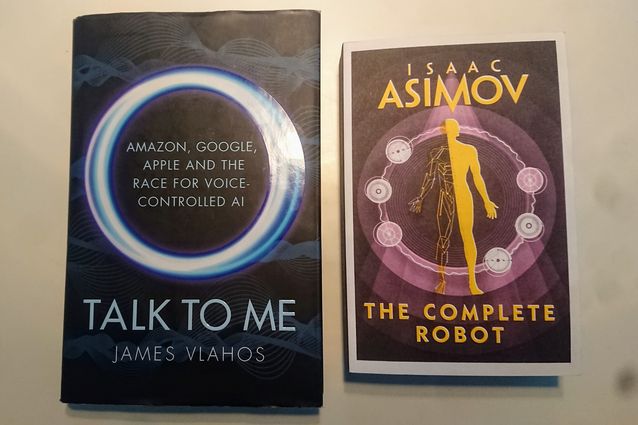 Voice control is praised to be the new user interface paradigm, like touch screens were some time ago. Talking to a computer should make information available to everybody in the easiest way, without reading, writing or typing skills or even understanding mobile phone icons.

Each person's voice is also a digital footprint that the computer can use to identify persons. This will help services to be automatically personalized.

The ultimate goal is called "conversational computing" in which the computer can chat with you as a real person. Many competitions offer big money for those whose chatbot can finally pass the Turing test, which means that it should be impossible to determine whether you are talking to a human or a computer.

At BETT, voice applications were presented with accessibility or rather inclusivity in mind. The examples shown were supposed to make information easier and quicker available to all learners with varying age, abilities or challenges. Which is all of course very good, at least for the major language speakers in the world.

Google Docs has had a wide array of languages for dictation for some time already. Just recently many smaller languages, such as Finnish, have been added as input languages in Office 365 applications too, making voice input more democratically available.

Lancaster university has set up Amazon's Alexa to be able to answer students' frequently asked questions and to serve as a 24/7 service desk.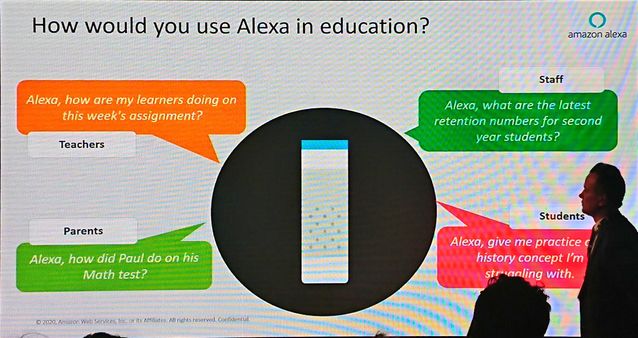 Microsoft presented several tools under the inclusivity theme. PowerPoint can now add subtitles in real time while you present, and even translate between major languages.

Inclusivity apps include Immersive reader to help persons with problems in reading, and "Seeing AI" that helps blind persons by explaining what the mobile phone's camera "sees", including reading out text and recognizing people.

Both Microsoft and Google offer capable translators as mobile apps that can translate some languages practically live, or at least help a lot when travelling abroad.

The new built-in PowerPoint presentation coach impressed me, it is the first real AI kind of virtual trainer I have used - it gives really useful real-time feedback!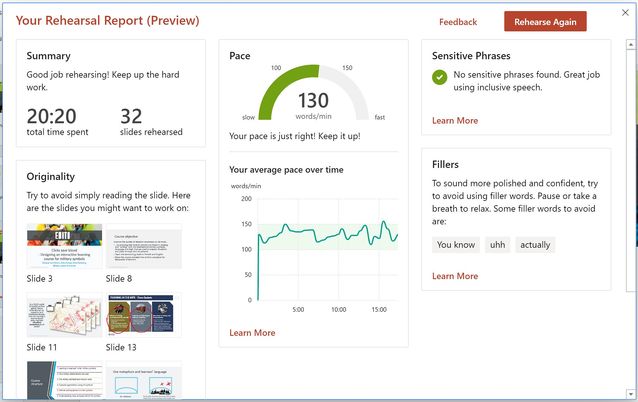 If you possess some programming skills, you can even program speech recognition apps yourself. Many ready-to-use speech recognition platforms exist and can be utilized via APIs with little programming effort.

Do you think talking to a computer is funny? Finland is one of the world's most literate nations. Our tiny and difficult language has been overlooked by AI, and for adults "Google translate" has been a good joke. For my generation, talking computers have meant Star Wars' C-3PO and Michael Knight's talking, self-driving car KITT - the grandfather of Tesla. Well it's time for a reality check - my childhood's scifi is today's reality.

Talking of children, the famous Finnish children's book author and programming teacher Linda Liukas showed in her delightful BETT talk how children grow up immersed in technology. For them ICT is not all Terminators and Black Mirror, but a force for good.

At BETT my favourite theme Gamification was also around. By gamification I think of motivating and fast-paced interaction, that guides to better performance and promotes teamwork. These features are used in many learning apps both for children and adults.

Ohio State University told about their esports program, where gamers are offered similar facilities, coaching and competitions as traditional university football or basketball teams. Esports is a way to attract students and offer them one career in a rapidly growing business. I must mention that Finns are well represented along Koreans in global esports tournaments.

I also attended a training session about using Unity, the free-to-use game development platform that is used to build 50% of the games today. According to Linkedin, the seventh most sought after job skill in the U.S. market is "Unity developer".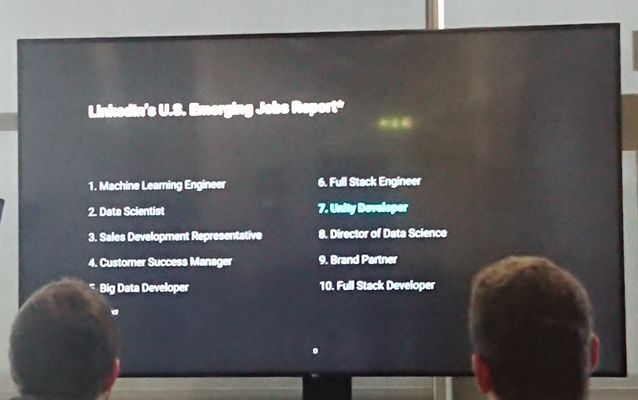 I see Unity and similar 2D, 3D and VR development platforms and tools as future PowerPoints that we should learn to use, to be able to do "speculative design", a term that means making visual, interactive and tangible representations of your ideas.

All these tools and ideas further blend our meatspace with virtual reality. Even in the London underground, the ages old warning "Mind the gap" is now "Mind your device" - don't let your loved one fall in the rush!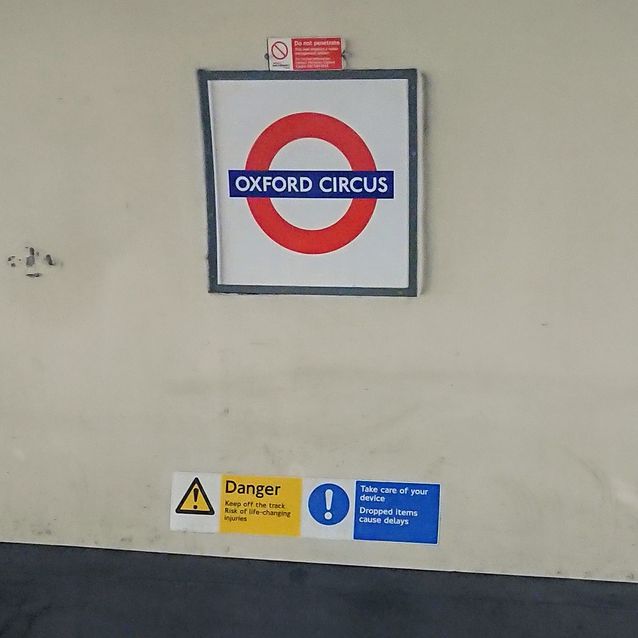 My examples were but a few of the interesting things at the BETT show. They can all be used to support learning, whether at schools or at work or our free time. Let's make sure that we have informed and educated decision makers to ensure that infrastructure investments and legislation will support new technology, information security, inclusivity and other important features.

Thinking about the small talk surprise I had in the toilet in London, it was back to normal when at the office I entered the elevator full of people. Nobody said a word and all I heard was the elevator's voice say "going up".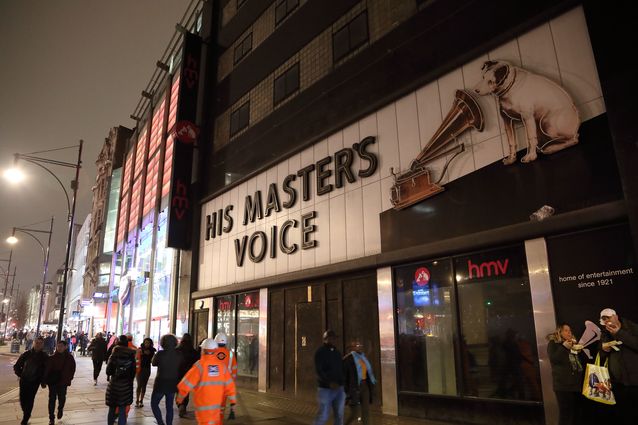 Listen to the podcast version of this blog on our SoundCloud account!
You can also watch the vlog version (with some extra demo material) on our YouTube channel!