"Creativity is the new Productivity"
I visited the BETT (British Education Technology) exhibition in London Jan 25 to Jan 27. The main theme seemed to be creativity, especially in its visual form. I observed how the exhibited hardware, software, services, methods and presenters' experiences reflected the increasing role of creativity in learning. I wanted to see how these lessons apply to learning not just at school but also in the working life.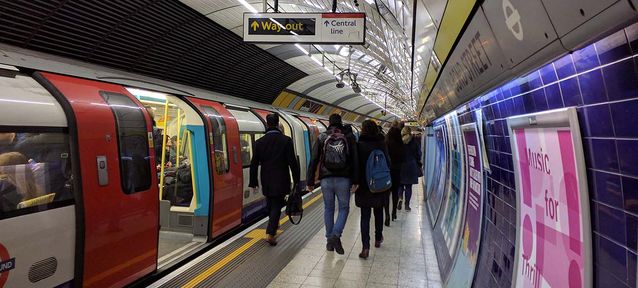 STEM has been the favorite acronym of any responsible education oriented organization or business for years. STEM stands for Science, Technology, Engineering and Mathematics. Those have been the building blocks of our industrial society, and mastering STEM has ensured most students a good job and salary. In the current global post-industrial turmoil, where robots and artificial intelligence seem to challenge our STEM-based society, the need for any extraordinary and unpredictable abilities has increased.
Thus the concept called STEAM has emerged just recently. The A stands for Art (+ Design, ie. "Creativity", visit the website www.stemtosteam.org for more information). It sounds somewhat as if Divination, the vague subject practised at Hogwarts School of Witchcraft and Wizardry, had finally been promoted to equal status with the Defence against Dark Arts.
At BETT 2017, STEAM was everywhere. Here creativity seemed to mean especially new and easier ways to express ideas visually and interactively, in other ways than good old written text. Creativity has been often credited to Apple's ecosystem, but now Microsoft has coined the new direction well with their slogan "Creativity is the new Productivity", with some good new tools to support that. "Creativity is the most important leadership quality", according to 1,541 CEOs interviewed by IBM for their report "Capitalizing on Complexity" (recommended to me by Lego Education).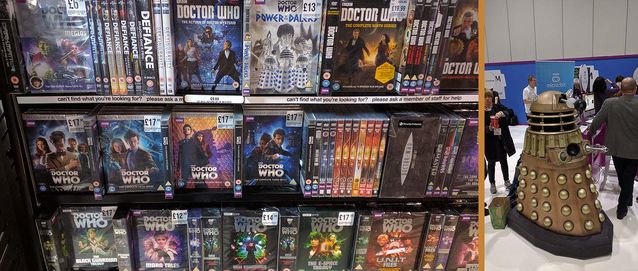 Software and application vendors demonstrated many innovative ways to do "speculative design", ie. to easily visualize and modify ideas, concepts and data. Many tools offer templates to build visual presentations, such as Adobe Spark and Microsoft Sway. APIs in Google and Excel make it possible to connect to sensors and visualize measurements in real time with little or no programming skills (g.co/sciencejournalapp and Excel: Project Cordoba). My favorite was the example where Adobe After Effects was used to embed 3D designs in real video with its green screen motion tracking feature.
Video in general was very prominent at the BETT floor. Video is widely used in flipped learning, for student exercises and feedback. In one case it was shown that short video introductions of MOOC course modules increased the number of people opening the modules and completing them. Making a video requires that you really know what you are talking about and can express it concisely. By now all phones, tablets and networks support making and viewing video. Video also appeals to emotional intelligence and is a natural medium to children (not so for adults yet).
AVR, Augmented and Virtual Reality is the next step up from plain video. Last year it just was not at BETT yet. Since then Oculus Rift, HTC Vive and other tools have built on the example set by the Google Cardboard. Now several companies offered extensive sets of VR learning content with lesson plans. It is interesting to see how VR develops from here. Its immersive nature is certainly a powerful motivator for learning. Today VR worlds are still quite passive. It takes time to develop natural ways to move and interact in a virtual world. Pokémon GO did a good job in bringing AVR closer to everyday use.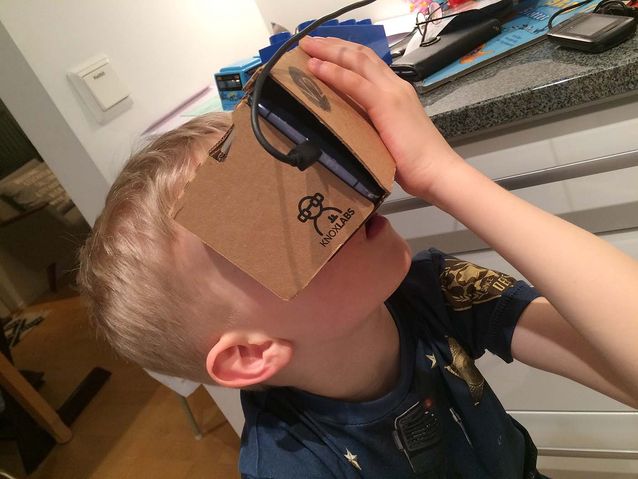 The A in STEAM is based on play and imagination. Like last year, Lego Education, Minecraft Education (Microsoft bought and merged the Swedish Minecraft game and Finnish MinecraftEdu mod) and many robotic playsets and lessons about digital storytelling gave good examples of the power of free play. Edita Publishing's Educode business offers training for both Lego Education and Minecraft Education.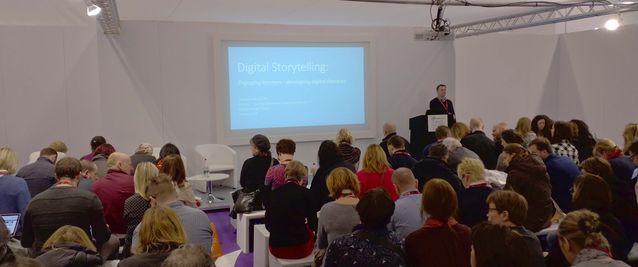 You can be like Newton and innovate with just a pen and paper, but the killer feature for STEAMing will be the digital pen, that allows you to truly draw and write on screen. I have been using Microsoft Surface Pro 4 tablet computer and its pen for a year and there's no turning back.
At BETT I still didn't find a pen-equipped computer that matches the Surface. iPad Pro has a good pen too, but these are both still too expensive for regular students' parents, not to mention schools. I tested one high-end Chromebook with a pen, but it was honestly enough advertised to be used for "doodling" only - it was too slow when drawing or writing by hand. While proper typing skills remain highly valuable, the digital pen will truly be a STEAM weapon of choice when it becomes more available and affordable. It will be similar to the effect that touchscreens had for mobile phones.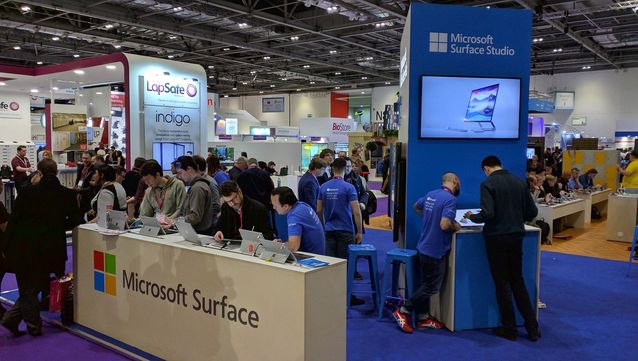 To present those STEAMing ideas, a hot item this year seemed to be huge touch screens either on the wall or as a table. They are certainly more practical than smartboards that require a projector. Still I don't think they are big enough to compete with the big picture that a proper video projector offers. With a slightly aging eyesight I have recently missed many points in meeting rooms with too small big screens. Make them three meter wide and we may be talking - maybe with OLED screens soon!
When there are 20+ students in a class or a big team in a meeting room, you'd be STEAMing more efficienly if anybody could share their visions on the big screen without the cable hassle. This is closer than ever with several wireless projection techniques shown at BETT, such as Miracast, Google cast for education, Apple TV and the likes. But we're still waiting for an ecosystem-independent, dongle-free cheap and functional solution that is supported by any device and operating system and projects the whole screen and not just a specific browser.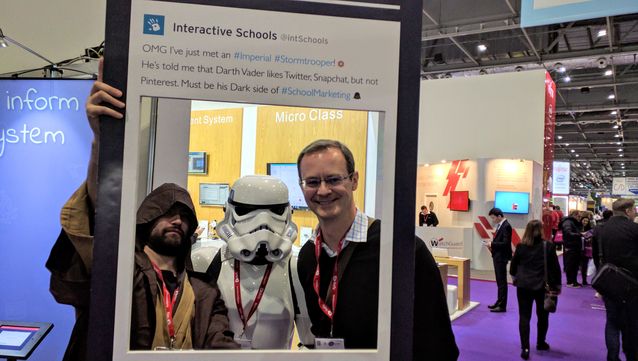 The many different Learning Management Systems (LMS) shown at BETT have lately been challenged by GAFE (Google Apps for Education) followed closely by Microsoft's Office 365 and its killer app OneNote (my memory extension). These business giants have turned their cloud based productivity suites to learning platfoms, both innovatively called "Classroom". It is great that their mutual competition speeds the development for the benefit of the learners. Both claim to be the king of the hill in modern dead-tree-free learning. Both companies' BETT presentations concentrated on educating the audience on how to use the cloud for virtual collaboration and to forget email attachments - older people do not know what the cloud is and younger don't know what email attachments are. Tough!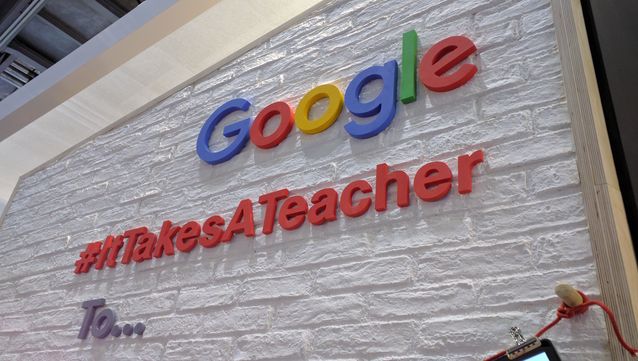 Friday night's top presenter was the legendary Sir Ken Robinson, author of the most ever viewed TED talk. Sir Ken's good talk about enabling the A in STEAM and lessons he'd learned in over half a century were peppered with fun British humor - in my mind's eye I saw him in Pink Floyd's "We don't need no education".
He also used Finland as a positive example of a modern learning environment. We should remember our reputation abroad as a superpower in education - this was not used at BETT, where only oil countries such as Norway had their country stands. You may watch Sir Ken's presentation below.
What was not at BETT? I did not notice much AI, artificial intelligence solutions for learning. There were no robot tutors or genies-in-a-laptop to replace the teacher. But AI is there. It is in the search engines, in the way computers now understand speech and handwriting, how they help students in creative writing, how they learn to recognise things they "see" and can interpret people's emotions via their webcams. There is AI in the way computers connect with real world and act on it via their robotic extensions. Will computers be able to overtake us in the A of STEAM - innovation, design and creativity? Let's return to London next year to see what has happened!